Volumetric Mixer Refurbishments
With years of experience and expertise, there's no one better than Volumech at putting new life into an old mixer — no matter what the job.
Volumech's Refurb Process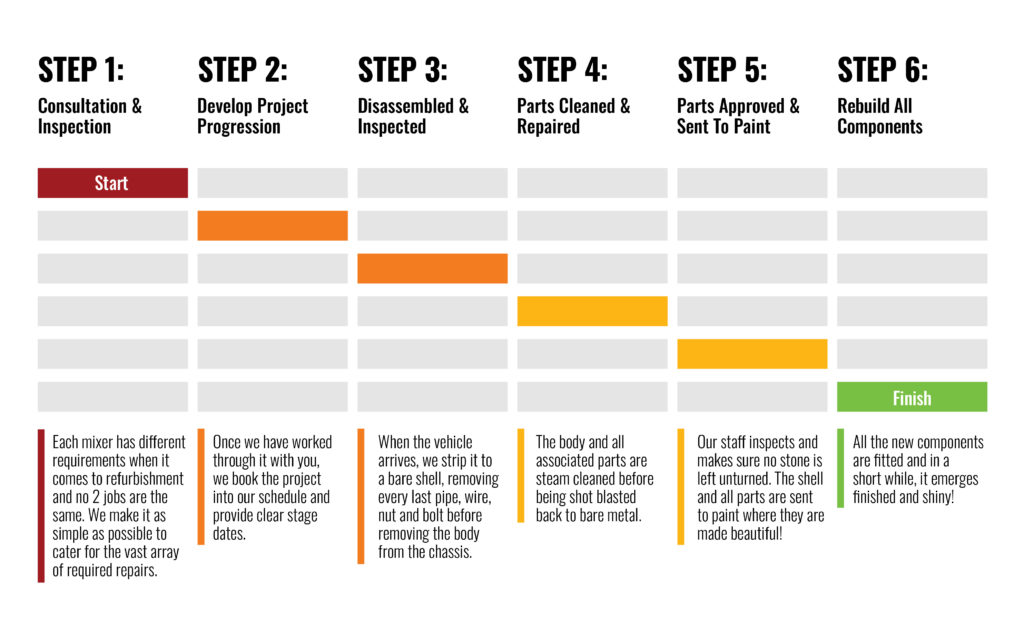 REPLACE & REFURBISH
The client, AK Hill, asked for a refurbished unit to replace the existing 2007 unit that was remounted onto a 2018 chassis at the time of the VSO change. We agreed the most time effective way to update this mixer two years later was to supply a fully refurbished unit which we would swap for his — we part exchanged his unit. The unit was stripped to a shell and had the following work carried out:
Also, special considerations for this unit included:
THE ENGLAND RUGBY TRUCK!
This mixer came to us as a 2007 Cemen Tech 8m150 which had been in service for 12 years. The original chassis had had its day and the mixer had produced a lot of metres of concrete!
Upon the first discussions with Mr Steve Phillips from Accumix Concrete Ltd, it became clear he wanted to create something special to celebrate the 2019 Rugby World Cup in Japan. We outlined the rebuild criteria while listening to what he wanted with regards to the running of the machine and a stylized element.
We set about it as per usual, stripped it to a shell, cut most of it off and started from scratch! Working with Accumix, we developed a list of required alterations such as:
The graphics on this vehicle had to create the wow factor! We collated designs for the cab wrap and Accumix information along with the support for the England rugby team. I think you will agree this makes for one very nice mixer!
WHAT A MONSTER!
This is a 2002 Reimer R12 unit mounted to a 2007 Volvo FM. The mixer itself was in a poor state when we purchased it. Being nearly 15 years old, it had seen much better days and was badly rotten and beaten. We set about stripping the mixer to a shell and removing it from the chassis. The main aggregate bin was cut off and scrapped and the cement bin removed. We fabricated a complete new aggregate bin. The cement bin was completely overhauled, including the customer's logo as a window and rear top apron to keep cement dust off the back. We rebuilt the top light housings to incorporate custom top light pods, rear work lights and strobes. After painting, it was fitted with all new components including:
Once mounted to the chassis, it was fitted with custom aluminium storage boxes and full-length shelves maximising available space for chutes and wheelbarrows. Visit our Facebook page for a more detailed picture timeline.
OFF ITS SIDE ONTO A VOLVO!
This mixer started life as a 2013 Cemen Tech 8m150 which we acquired after it had been put on to its side. The main truck chassis and cab were a write-off and the body was twisted.
We removed the body from the original Renault chassis where we could see the extent of the damage clearer. We decided it was going to take something special if this mixer was going to be returned to its former glory and function correctly.
We stripped the body to a shell, removing the cement bin as well. The aggregate bin was cut down to the bin supports, letting us see the chassis had a gentle twisting curve. We decided to construct our own mixer body jig – this comprised of 2x 500mm I-beam chassis lgs to form the bed with the same I-beam cross bars and diagonal braces. This allowed us to fasten the chassis down and manipulate it until straight.
Once done, we set about rebuilding it as normal with a few of our little twists, including a sliding chute rack mounted on the water tank, fibre feeder, and a full-width rear catwalk.
After the custom 3 colour paint job was carried out, the mixer was mounted to this rather lovely Volvo FM12 and fully rebuilt to our usual high standards!