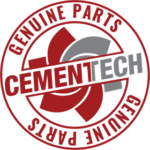 As the only source for Genuine Cemen Tech parts in the U.K., Volumech stocks an extensive inventory of more than 1,000 Cemen Tech parts to ensure we always have what you need on hand. With next day delivery standard, we're here to get you up and running fast.
Auger System Components
Conveyor System Components
Water System Components
Hydraulic System Components
With an extensive inventory of replacement parts, Volumech can support your entire fleet of mixers no matter the brand. We've used our extensive experience working on every make of mixer and listening to our customers to develop improvements that make your mixer better. The quality of our parts often exceeds the performance of the original parts and is a direct replacement in most other cases.
Besides these makes of volumetric mixers, we also offer replacements for Xact, Armcon, Holcombe, and Elkin can custom make additional parts as needed.
Custom Volumetric Mixer Parts
Unit 1 Sovereign Business Park
Wyvern Ave
Stockport, SK5 7DD
Unit 9a Mill Place One
90 Bristol Road
Gloucester, GL1 5SQ